Sitting Around the Fire With Ozzy and Zakk Wylde on Headbanger's Christmas
When MTV Played Music
In 1988, Ozzy Osbourne and Zakk Wylde hosted a very metal Christmas on Headbanger's Ball.  Their gig proved the pair to be great friends as they clowned around through their intro lines.  Osbourne dressed as a mutant Santa character and Wylde was possibly his helper, clad in a Santa hat. It's impossible for either of the musicians to take the other seriously. They make the best of the Headbanger's Christmas by fooling around in front of the green screen.
Wylde introduces a Kiss music video and Ozzy hesitates to muster up a responsive "Yes."  The awkward pauses have the two giggling through the clip.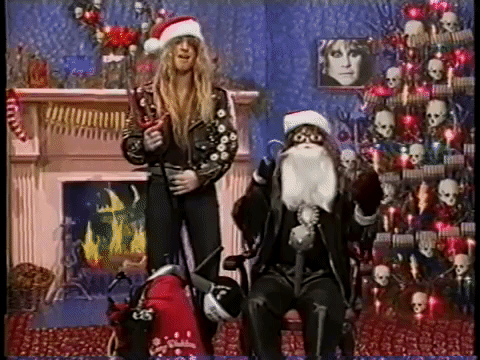 Anthrax for Christmas
Zakk Wylde introduces an Anthrax song before Osbourne wacks him in the head with a plastic mallet. Neither rock star could keep a straight face and they bust up laughing through the end of their lines. So, maybe acting isn't their thing but they do make entertaining hosts. To their credit, the get ups where absolutely ridiculous. Ozzy is dressed as an underworld mutant Santa- clad in prosthetic giant feet and hook claws. If anyone can get away with those costumes it's them- because they are that metal.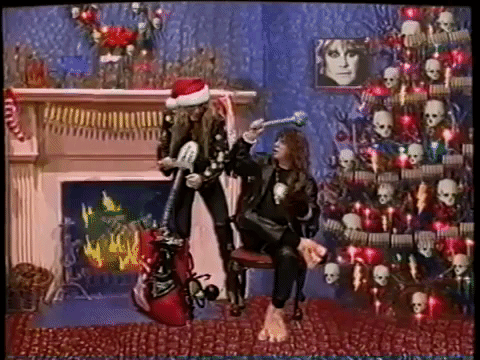 A Heavy Metal Christmas by the fire with the Headbanger's hosts.