Paul Simon and John Lennon at The Grammy Awards Were Total Hilarity
YouTube / Recording Academy / GRAMMYs
The 17th Grammy Awards
For perspective, Simon & Garfunkel had split in 1970 and each had been dodging questions about a reunion. Totally able to relate, John Lennon and The Beatles had also gone separate ways. Each of the musicians had been experiencing serious musical differences with their originating bands. The 17th Grammy Awards were held in 1975 and the iconic duo were prepared with some heavy-hitting jokes regarding solo careers and interpersonal relationships.
Their job was to present Record of The Year. That's exactly what they did but with some lively banter in between. Paul and John were initially joined on stage by Andy Williams. The three present themselves as solo artists who used to play with their famous "partners." So the jokes begin…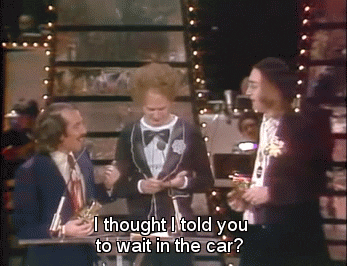 Paul and John announce all of the nominees for Record of The Year (Elton John, Roberta Flack, Joni Mitchell, Olivia Newton John, and Maria Muldaur) by playfully making fun of each musician. Yet, the winner was not in house. Olivia Newton John won the award that night and Art Garfunkel was there to accept the Grammy on her behalf. This was one of the first times Art and Paul were publicly together since their split, 5 years earlier.
Art Garfunkel, in a full glitzed out tuxedo shirt, was not feeling as humorous as Paul and John. John starts out with "Are you guys ever getting back together again?" While Paul chimes in with with "I thought I told you to wait in the car?"– to a not so cheerful Art.
The audience is stupefied in laughter. Whether planned or not, the jokes were so witty and so relevant to the times. This was back when the Grammy Awards had a real sense of humor… and music. Judging by those in attendance and the great year in music, the 17th Annual Grammy Awards might have been the best year for the revered award show.