In Memoriam: 16 Rock Legends We Lost In 2016
photo credit: (L) billboard.com, (C) bit.ly, (R) invanddis.proboards.com
2016 is nearly over, and not a moment too soon. In a year that can easily be described as one of the most bruising, divisive, hurt filled years in recent memory, we've seen tremendous bravery in the face of unspeakable tragedy, social change on levels we never thought possible – even Guns N'  Roses managed to make it through an entire tour without self destructing. However, it's impossible to look back on the year without also acknowledging the void left behind by the deaths of some of rock's most beloved and influential figures, whose voices we'll only ever hear again through the musical legacies they left behind. 
We didn't just lose legends, we lost icons. Visionaries who came to rock and wound up paving the way instead, shaping the world around them into something far more beautiful and far kinder than it was when they arrived. From David Bowie to Greg Lake, check out our tribute to some of the greatest musicians the world has ever seen, and may they all rest in peace.
1. Greg Lake | Emerson, Lake & Palmer
2016 is winding down to its last days, and not a moment too soon; it's claimed the lives of some of rock's best and brightest, most recently Greg Lake of prog rock giants Emerson, Lake & Palmer after what his bandmate Carl Palmer calls a "long and stubborn" battle with cancer.
The English bassist, guitarist, singer, songwriter, and producer sailed into rock and roll legend as a member of progressive rock giants King Crimson and later, Emerson, Lake & Palmer before embarking on a successful solo career in 1975 that began with "I Believe In Father Christmas". Lake died in London on 7 December 2016 at the age of 69.
2. Henry McCullough
An accomplished solo artist and studio session musician, McCullough is best known for his work with Spooky Tooth and Sweeney's Men, but it's his work with Joe Cocker's Grease Band and later, Paul McCartney's Wings that shines most brightly as we remember Henry and the music career that spanned over 5 decades.
Henry McCullough's June 14, 2016 death is attributed to poor health stemming from a 2012 heart attack, and prompted industry legends and colleagues like Paul McCartney to take to social media to express both their profound sorrow and gratitude at having worked with such a fiercely talented human being.
3. Leon Russell
Born Claude Russell Bridges in 1942, Leon rose to fame as an accomplished pianist, guitarist, songwriter and bandleader, eventually crafting his own hits after years of playing countless recording sessions.
With over 31 albums under his belt (roughly around 430 songs), Leon's legacy is that of a fiercely respected "musician's musician" – one whose magic touched the lives of not just the audiences that turned out in droves to see his performances, but the who's who list of musicians who worked with him over the course of a lengthy career that began at the age of 14 in the nightclub circuit of Tulsa, Oklahoma.
4. Paul Kantner
We'd only just begun to process the losses of David Bowie and Glenn Frey when word came on January 28, 2016 that we'd lost Paul Kantner to multiple organ failure stemming from a massive heart attack at the age of 74.
Known for captaining Jefferson Airplane through various successor incarnations of Jefferson Starship, Kantner had the longest continuous membership with the band and at times, was the only founding member still in the band from the original Jefferson Airplane lineup.
5. Signe Toly Anderson
As further proof of just how cruel 2016 has been, we lost former Jefferson Airplane singer Signe Toly Anderson on January 28, 2016 – the same day we lost her bandmate, Paul Kantner.
The 74-year-old singer spent several years following her October, 1966 exit from Jefferson Airplane singing with a ten-piece band, Carl Smith and the Natural Gas Company and in later years made special appearances with the KBC Band and Jefferson Starship before succumbing to the effects of COPD at her home in Beaverton, Oregon.
6. Glenn Frey
Glenn Frey was one of those men who was so larger than life, so fiercely determined in all that he did that it was impossible to imagine death taking him – but sadly it did on January 18th, the result of "complications from Rheumatoid Arthritis, Acute Ulcerative Colitis and Pneumonia."
The Rock and Roll Hall of Famer and late Eagle won six Grammy Awards, and five American Music Awards during his decades long career in music and at the time of his death boasted a whopping 24 Top 40 singles on the Billboard Hot 100. If that's not a legacy you can hang your hat on, I'm not sure what is!
7. Leonard Haze
This fall, we said goodbye to Leonard Haze, original drummer for Bay Area rockers Y&T. Despite his mounting battle with COPD – a battle that ultimately claimed his life on September 11th – Haze's tenacity saw him behind the kit and playing with his band HAZEXPERIENCE, and joined Y&T on stage at the Fillmore in San Francisco in both 2015 and 2016.
8. David Bowie
Few singers and songwriters possess that certain spark of magic that was within visionary music legend David Bowie. Whether he was performing on a daytime talk show or before a crowd of over 100,000 people at 1985's Live Aid, Bowie was unmatched; a master showman, each chance to entertain was a chance to spread something wonderful to an audience who, plagued with the rigors of day to day life, greatly needed that spark of something magical to make the journey worth it.
That magic left the world when on January 10th, Bowie succumbed to his private battle with liver cancer just two days after his 69th birthday and the release of his final album, Blackstar.
9. Sir George Martin
Affectionately known as the "Fifth Beatle," Sir George Martin was as part of rock and roll history as the record smashing band he produced, writing the string and horn (and even some vocal) arrangements for almost all of The Beatles' songs.
With a highly trained ear and an innate sense of knowing when he'd come upon greatness, Martin died in his sleep at the age of 90 on March 8, 2016; his former "bandmate" Paul McCartney eulogized his old friend and producer the following day with, "If anyone earned the title of the fifth Beatle, it was George. From the day that he gave The Beatles our first recording contract, to the last time I saw him, he was the most generous, intelligent and musical person I've ever had the pleasure to know."
10. Prince
On April 21st, the world was rocked  by news of the death of music legend Prince, found dead at his Paisley Park estate at the age of 57. For fans, Prince's death came as a tragedy as one of music's best and brightest was called home – yet another in a seemingly endless stream of legends leaving us too soon.
For the music world, however, Prince's death marked the end of an era for those who were lucky enough to call him a friend and for those in the rock community who hail the singer-songwriter-musician as a genius whose talent inspired them to pursue their passions.
11. Keith Emerson
Progressive rock fans everywhere mourned the March 11, 2016 passing of Emerson, Lake & Palmer co-founder Keith Emerson, found dead at 71 in his Santa Monica home from an apparent self-inflicted gunshot wound.
Formerly a member of the Keith Emerson Trio, John Brown's Bodies, The T-Bones, The V.I.P.'s, P.P. Arnold's backing band The Nice, and Emerson, Lake & Palmer (ELP), one of the early supergroups, Emerson first found success with The Nice in the late 1960s before going on to become a founding member of ELP in 1970.
12. Jimmy Bain
Best known for playing bass guitar in Rainbow and Dio, rock legend Jimmy Bain also worked with Thin Lizzy frontman Phil Lynott, co-writing on his solo albums. A central figure in Dio, Bain co-wrote "Rainbow in the Dark", "Holy Diver" and two additional songs which appear on their 1983 released first album, Holy Diver.
On January 23, Jimmy was due to perform on Def Leppard's "Hysteria on the High Seas" cruise with his group Last In Line the following day but tragically died in his cabin, the victim of a heated battle with pneumonia and then-undiagnosed lung cancer.
13. Dale Griffin
Famously known as a founding member of 70s English rock band Mott the Hoople, Dale "Buffin" Griffin died in his sleep on 17 January 2016 at the age of 67 after a lengthy battle with Alzheimer's. Mott the Hoope manager Peter Purnell confirmed Griffin's death to the BBC, adding that the drummer was "one of the nicest, friendly and talented men I have ever known."
Tragically and coincidentally, Griffin's death came just one week after the passing of David Bowie, who penned and produced Mott the Hoople's biggest hit, "All the Young Dudes."
14. Leonard Cohen
A prolific musician whose body of work explored every topic from religion and politics to isolation, sexuality, and personal relationships, Leonard Cohen knew how to get to the heart of the human condition in a way that both broke your heart and restored your faith in humanity's potential to someday get it right. The Quebec native passed away on November 7th – just weeks after releasing his 14th and final studio album You Want It Darker with the help of his son, Adam.
15. Rick Parfitt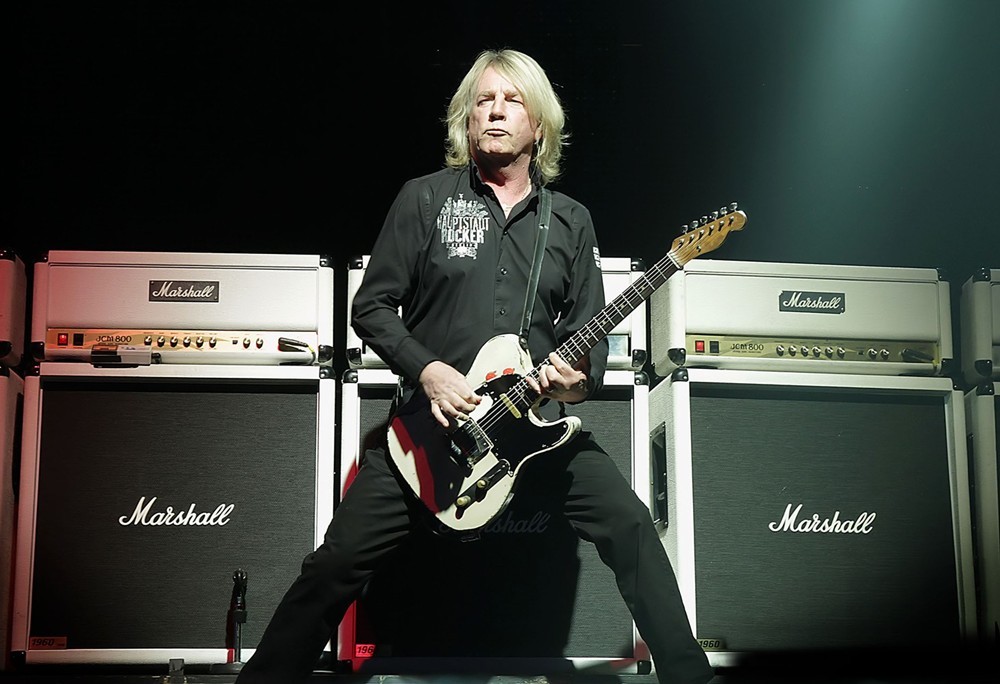 2016 couldn't resist a few more jabs before it fades into obscurity, claiming the life of legendary guitarist Rick Parfitt of English boogie rockers Status Quo on Christmas Eve.
Parfitt, whose musical journey began at the age of 11 and saw the singer, songwriter and rhythm guitarist rise to fame as one of rock's most celebrated and fiercely respected musicians, died on 24 December in southern Spain from sepsis, after being admitted the previous day, following an infection of a pre-existing shoulder injury.
16. George Michael
On Christmas morning, we awoke to the tragic news that 2016 claimed the life of pop icon George Michael, found dead of unknown causes at the age of 53.
With over 100 million records sold worldwide and holding the title of one of the best selling British acts of all time, Michael's influence transcends music as friends, fans, and industry colleagues remember a fiercely talented man with a heart bigger than his body and whose ability to shapeshift with the times saw him successfully transition from 1/2 of 80's pop duo Wham! to a solo artist whose debut album, Faith, reached diamond certification, setting the tone for a fiercely impressive solo career.