Santana Is Interrupted During A Meal in 1971 and It's Interview Gold
YouTube / ITALA
Fuel For Fire
Whatever reason Santana had for not putting his fork down during this interview is probably a good one. Maybe it was his passive attitude towards prodding interviewers, maybe he was hungry, or maybe he just wanted his music to define itself. A very young Carlos Santana was standing beside the band's percussionist, Pete Escovedo  and was trying his best to keep a good face for this impromptu interview. Santana seems to be a bit bothered with the expectation to give a philosophical reply to questions about the meaning of his music. He looks to Pete for some sort of solace. Santana musters a few short answers but they don't seem to be well defined and the percussionist tries his best to clarify the musician's responses.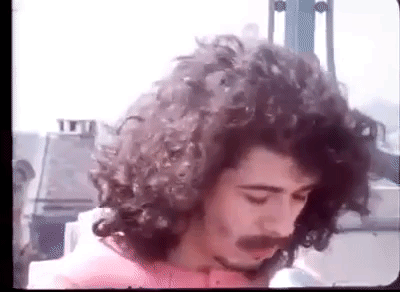 "It's just music you cant put it in a bag!"
Let The Music Speak For Itself
"Carlos Santana how did you start your group and how did you 'came' to music?" asks the foreign interviewer. Carlos hesitates to look up and shovels a fork full of food into his mouth before shaking his head in annoyance and swinging his face to Pete. "The answer!" encourages Pete. Santana takes an internal deep-breath and responds to the question, "It's just- as soon as music gets in the air, you see the people changing… people are more themselves than what they are programmed to be." The answer isn't exactly concise or clear but he wasn't set on explanations. The interviewer goes on to ask, "Do you feel you are leading a rock group?" Santana shakes his head, "Nope. I'm not leading anything." "What?" she asks. 
Girl… just let it go. 
Pete literally stares at Santana, not even shocked. He tries to chime in and speak for Santana, but it is a fruitless attempt. "It's everything. The band has all kinds of rhythms- all kinds of feelings," he says. After this interview, I'm sure the reporter learned her lesson- just let people be.