I Listened To Steven Tyler's Country Debut 'We're All Somebody From Somewhere' – Here's My Brutally Honest Review
thetimes.co.uk
A Little Bit Country, A Little Bit Rock And Roll
The rock world collectively lost its mind when Aerosmith singer Steven Tyler announced plans to break into the country niche with his first ever country album. Titled We're All Somebody From Somewhere, the album is both everything and nothing we ever expected from the 68-year-old rocker; released today and boasting 13 original tracks with two rather surprising covers thrown in, the album marks a noticeable departure from Steven's usual blues soaked brand of rock and roll, giving way to a project that's equal parts Los Angeles and Nashville – a little glitz, a little grit, and a whole lot of boot stomping for good measure.
---
Opens With A Whisper…
Produced by Tyler with the help of T-Bone Burnett, Dann Huff, Marti Frederiksen, the Cadillac Three's Jaren Johnson, We're All Somebody From Somewhere opens up not with a roar but with a whisper, courtesy of the deeply introspective "My Own Worst Enemy" – a 5:11 minute ballad lamenting lost love that while lovely, belongs more towards the middle of the album and isn't exactly the barnburner of an album opener I was hoping for or  expected from a debut album by an artist of Steven's caliber. Rather, I'd have loved to have heard the ultra funky, bluegrass infused "We're All Somebody From Somewhere" kick things off, or even the boot stomping nod to the outlaw country of yesterday, "Hold On (Won't Let Go)".
---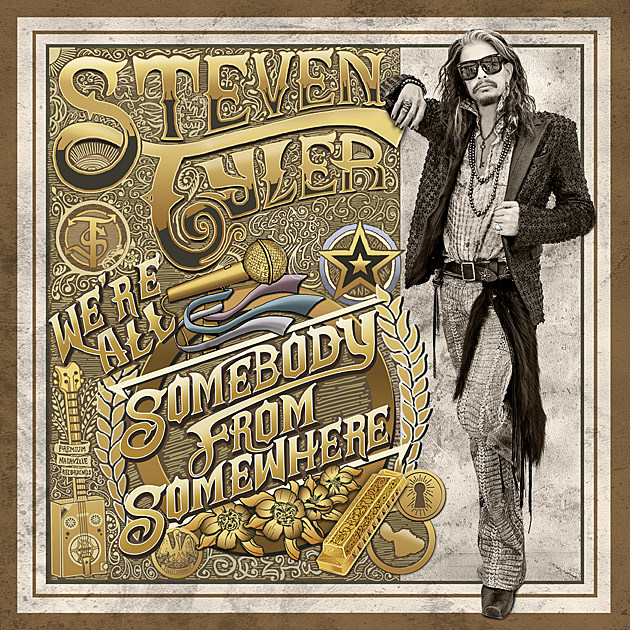 ---
…But Continues With A Roar
Once you get past the opening track, you've got yourselves a pretty solid album and while Steven's spark of madness isn't present, there's something here we haven't heard before: genuine happiness. Tracks like the bright, upbeat "I Make My Own Sunshine" and "Somebody New" mark a point in Tyler's evolution as an artist where he finally feels free to create on his own terms, a luxury that working with a band like Aerosmith doesn't always allow, whereas his cover of Big Brother & The Holding Company's "Piece Of My Heart" allows him the chance to pay tribute to his idol Janis Joplin in the best way he knows how – through song.
---
So, What's The Verdict?
Though it likely won't appeal to serious country music fans or even serious rock fans, We're All Somebody From Somewhere is a bright, fun album that doesn't try to be anything more than what it is and if you liked Steven's first singles "Love Is Your Name" and "Red, White & You," odds are that you'll enjoy the rest of the album as a whole. It's by no means my favorite album in recent memory, but I like it well enough – be sure to check out "Sweet Louisiana," it's one of my favorite tracks from the album and one I think you guys will all really, really like!
Keep rockin' in the free world,
M