Bon Jovi's First Television Interview Is A Little Awkward!
YouTube / Rock N Roll History
"I Thought It Was A French Band"
The iconic TV host probably made the band a little nervous. Bon Jovi's evident on air jitters could have had something to do with it being their first on-air interview together! They talked about the mispronunciation of their band's name, their debut album (1983's Bon Jovi), and going on tour with Scorpions. They are just so young it's hard not to stare in disbelief.
"Now, are you up to having your name mispronounced?" asks Dick Clark.
Jon responds, "Oh yeah, I'm getting used to it!"
Initially Clark assumed they were a French band. Imagine being able to look into the future and identify Bon Jovi as one of the most American bands of patriotic pop culture!  Jon goes onto to talk about how the band became a group, but only after he does some awkward huddle shuffle behind the mic. In 1983, American Bandstand, hosted by Dick Clark, was one of the most popular shows on the airwaves. We would all be a little nervous too!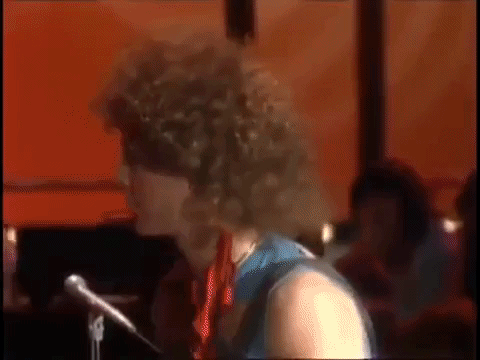 But The Best Part…
Dick Clark is talking about what Bon Jovi's future holds. After they talk about going on tour and the excitement of their debut album, Jon says "I'm waiting to hit 30 and this is all over for me, social security comes in." Sure, Jon! As we all know, Bon Jovi is still touring 35 years later. The group is clad in the most quintessential 1980s garb you can imagine. Tight orange leather pants, fishnets as shirts, tricep bangles, and enough volume in their hair to have supported the economical sustainment of AquaNet. Nice to know the band has come a long way but remained just as humble!