Tom Petty's "American Girl" Is Not From Florida, But You Might Know Her
MANCHESTER, TN - JUNE 16: Tom Petty performs during the 2013 Bonnaroo Music & Arts Festival on June 16, 2013 in Manchester, Tennessee. (Photo by Erika Goldring/WireImage)
She's Sort of All of Us
The music Tom Petty wrote wasn't really about anyone- it was about all of us. It is no coincidence that his songwriting was a bit vague. Anyone, anywhere can listen to his music and connect to it. That must be the whole point of sharing your music with the world, right? To communicate to people that there is someone out there just like you? It's human connectivity- Tom Petty got that.
Take It Easy Baby
Released in 1977, the track was the second single off Tom Petty and The Heartbreaker's self-titled first album. Some of his fans couldn't grasp the songwriter's concept and searched for a specific meaning to his music- particularly "American Girl."  Fans conjured that the lyrics in the song were referring to a girl who jumped off the University of Florida's Beaty Towers- to her death.
It was kind of cold that night 
She stood alone on her balcony 
She could hear the cars roll by 
Out on 441 
Like waves crashin' in the beach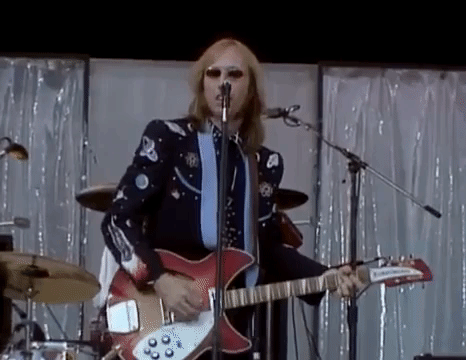 So what does it all mean?
Petty has denied the rumors and says "I was living in an apartment where I was right by the freeway. And the cars would go by… And I remember thinking that that sounded like the ocean to me."  The song has nothing to do with suicide.  It's a case of taking the lyrics too literally. Tom Petty ends all rumors by stating, "It was the start of writing about people who are longing for something else in life, something better than they have." This track is the best example of Tom Petty's vague writing. He wants us all to find a bit of ourselves in his "American Girl."