36 Years After His Death, Bon Scott Gets The Tribute He Deserves – See It Here
YouTube via rockwellmediadundee
Scotland Salutes Scott With Stunning New Statue
Though AC/DC was formed in Australia, it was Kirriemuir, Scotland that Bon Scott called home for the first five years of his life before his family moved to Australia in 1952 and it's where Bonfest, a weekend long celebration of Bon's life and career, has happened every year for the last decade. Now in its 10th year, Bonfest was extra special this year; not only does it occur just weeks from what would have been Bon's 70th birthday, but it marked the official unveiling of the statue AC/DC fans around the world have worked tirelessly to have created in Kirriemuir!
Designed by sculptor John McKenna, the bronze statue of Bon acts as the centerpiece as the town's memorial garden – also dedicated to Scott – and comes after devoted AC/DC fans around the world donated a combined total of £45,000 to an official Kickstarter campaign in a bid to see their hero properly honored in his hometown.
---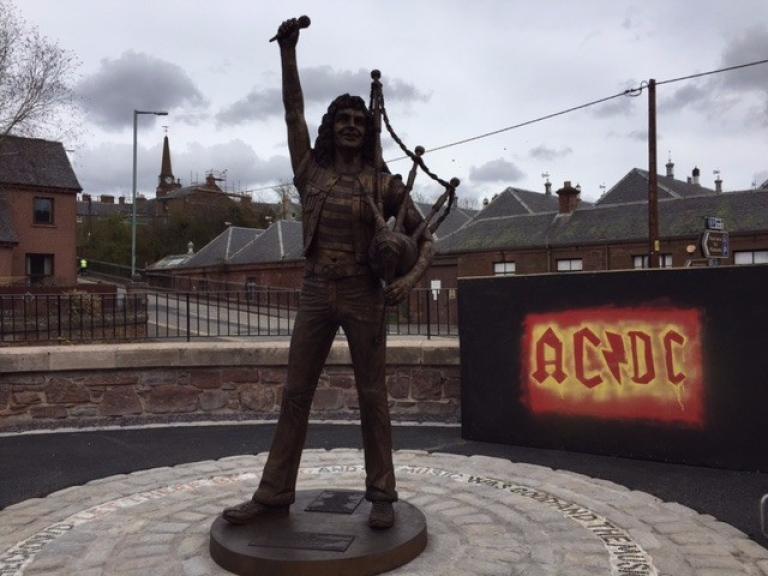 ---
The dedication and unveiling ceremony was a pretty emotional affair, too; former AC/DC bassist Mark Evans was present, and had this to say about the event:
"It's magical. Bon was a great pal and it's just great to be in the place where he came from," said Evans. "The statue has captured his essence, right down to his tattoos. He never forgot his Scottish roots. He'd have been absolutely chuffed to have a statue in Kirriemuir."
If, like us, you were forced to miss the big event this weekend in Kirriemuir, never fear: below is a video of the official unveiling, complete with your favorite AC/DC tunes to mark the occasion!