Steven Tyler And Jimmy Fallon Crush "Walk This Way" With Toy Instruments
The Tonight Show Starring Jimmy Fallon / YouTube
They're Having A Blast
Steven Tyler is a gift that keeps on giving. He has blessed us once again with this collaboration with Jimmy Fallon and The Roots as they perform Aerosmith's 1975 classic hit "Walk This Way" using "classroom instruments."
"Walk This Way" Like You've Never Heard It Before
This is one of our favorite segments in the show because it's equal parts entertaining and impressive and well, Steven Tyler slayed it. To be fair though, he can sing the yellow pages and it will rock – the guy's insanely gifted in the vocal department.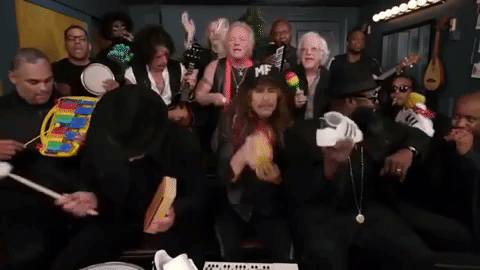 We don't know about you but we enjoyed it a lot more than we thought we would. Besides, they looked like they're having so much fun even Joe Perry is smiling! We're still kinda curious what kind of sound the "shoe" contributes though. But, it's actually a nod to Run-DMC who made these Adidas sneakers more famous!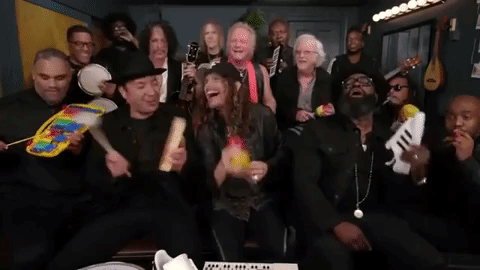 After watching this, you'll definitely want to see them in Vegas. Their residency will kick off on April 6, 2019 at the Park Theater at MGM Grand!
The Fun Goes To Vegas
"I feel like we've been out of the wind for a while and it seems like it would be a really cool thing to bring some of the history back, so the production is gonna look like that. We want to bring a show we can't do when we're on the road on a regular tour. A show that still has Aerosmith and all the guts of Aerosmith."– Joe Perry
While the "Classroom Instruments" segment is a bit chaotic to say the least (even Steven Tyler looked confused at times), we can expect solid performances during their residency. Then again, Aerosmith always delivers the goods. They promise to bring the best of Aerosmith in Vegas and we know they won't disappoint.
"The history behind our almost 50 years of being together. As soon as you walk into the Park Theater in Vegas, you're gonna feel it." – Joey Kramer
We can't wait for April!