She Required 3 Things To Cover John Lennon's "Real Love"
CHARLOTTE, NC - MARCH 17: Musician Regina Spektor performs at The Fillmore Charlotte on March 17, 2017 in Charlotte, North Carolina. (Photo by Jeff Hahne/Getty Images)
It Takes A Master
The Russian born- New York based Regina Spektor is well established in the music world. She began classical piano training at age 6 in Moscow. Spektor emigrated to the U.S. at 9 and continued piano along with songwriting. As she began to establish herself, she quickly entered the mainstream. Spektor has 2 Gold certified albums and debuted her albums 'Far' and 'What We Saw From The Cheap Seats' at #3 on the Billboard charts. Apart from her masterful piano skills, Regina Spektor has poignant vocals. She uses her wide ranging voice to make percussive  sounds and deliver soulful fluidity.
So, if Regina Spektor is going to cover a song written by John Lennon, she is going to require some top of the line accommodations. 
Like A Version Performance
Back in 2007, government- funded Australian radio station, Triple J, reached out to Regina Spektor. She was invited to perform on their Like A Version segment. The radio host explains that she had 3 requirements to participate. Most musicians take the equipment that is offered to them when they appear on the show. Not Regina Spektor. She required a  German grande piano, a stage large enough to fit the piano, and advanced sound engineering. They aren't exactly diva like commands, but definitely some serious requests. The songstress knew what she was doing. Her cover performance of John Lennon's "Real Love" is one of the most requested songs on the radio show.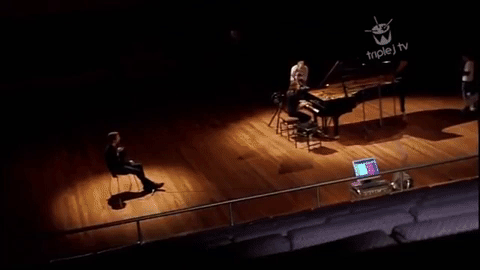 Thought I'd been in love before
But in my heart, I wanted more
Seems like all I really was doing
Was waiting for you