Ray Manzarek Explains How "Riders On The Storm" Got It's Atmospheric Quality
UNSPECIFIED - CIRCA 1960: Photo of Doors (Photo by Estate of Edmund Teske/Michael Ochs Archives/Getty Images)
The Doors' Hinges
It started in the Door's recording studio, much like most of their hits. The band was warming up to "Riders In the Sky," by Vaughn Monroe. Kind of makes sense right? As Manzarek's fabulous storytelling  explains, "Jim says, 'Hey, I got lyrics for that!' and he had 'Riders On The Storm' and I said, 'Ok that's great, man.'"
After the lyrics started coming together, Manzarek decided to add a jazz element, and this is what solidified The Doors' "Riders on The Storm."
What's The Bass Line?
More instrumentation was needed. Jerry Scheff, the Doors' bassist on L.A. Woman (1971), walked in as the song was being composed. Manzarek asks for his "simple" keyboarding to be translated into a bass line. Scheff explained that it would be nearly impossible due to the positioning of the chords on the bass. The notes were E minor and A major.
"I don't know what the hell he did. He had to go through machinations like turning his wrist virtually upside down/ inside out. I said 'I'm sorry man but it sounds so good."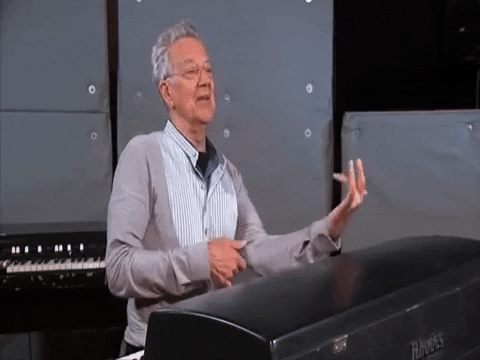 The idea was cowboys riding in the desert during a storm. They decided to add the storm track to the beginning of the song to set the mood. This ultimately turned "Riders on The Storm," into one of the most atmospheric songs ever released. Jerry Scheff's iconic bass line is introduced as the storm thunders. Then, comes Manzarek's keyboard melody.
Enter Morrison
Jim Morrison starts singing what Manzarek describes as "insane" lyrics and the atmospheric mood turns a bit ominous. Guitarist Robby Krieger comes in with poignant vibrato chords. The keyboardist goes on to state that Morrison's lyrics where based on his idea of making a movie about a hitchhiking killer.
"He knew he was going to Paris. He hadn't told anybody before we did this vocal. He was singing his love to Pam. He was trying to wipe out in his mind, the killer on the road… 'His world on you depends, our life will never end, gotta love your man.' Isn't that the ultimate love?" contextualized Manzarek about Morrison's lyric choice.
Then the Doors' keyboardist exclaims, "Keyboard solo!" Ray Manzarek really is a one-man show when it comes to interviews. He returns to the melody as you imagine the stormy desert inside the song. "We're back on the highway," states Manzarek.