Jeff Beck and Jimmy Page On Stage for Blow Up is Forever Smashing
YouTube / David Ayre
Blow Up
By chance, The Yardbirds had a Beck/Page era. Jimmy Page had temporarily replaced a band member in 1966 and Jeff beck was still the band's lead guitarist. During this time, director Michelangelo Antonioni was filming the iconic mystery thriller, Blowup. The director had been inspired by Pete Townshend's on-stage guitar smashing during the Who's live performances. The band's part in the movie was during a scene where the main character, a hip fashion photographer, attends a concert amidst an existential crisis.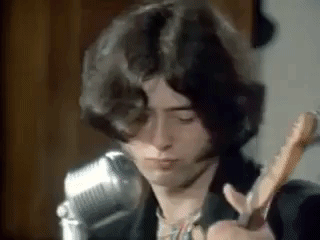 The Gist Of The Scene
The film is a conceptual piece about appearance and reality. The main character is a film photographer engulfed in a materialistic culture. When Jeff Beck totally destroys his guitar ( a hollow German-made Höfner ), the audience storms the stage to obtain the fragmented pieces. The nightclub is the "universe" and the smashed guitar is a precious object of desire within it. The crowd "needs" the guitar to feel important but outside of the club- the guitar is just a piece of junk. It's all about perspective. Director Antonioni is explaining how cheap and disposable the nature of modern culture is.
Long story short, it's kind of like humanity dehumanizing themselves during Black Friday sales.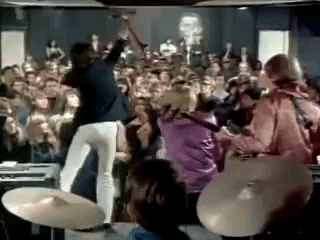 Just Smashing Darling
The best part about all of this is that The Yardbirds ended up recording another hit. For Blow Up, Tiny Bradhsaw's "Train Kept A-Rollin'," had to be re-worked into "Roll On"- to evade copyright issues. There wasn't much else recorded studio-wise with the Beck/Page line up. They did record the famed "Beck's Bolero," which became a classic. The Yardbirds also toured with both musicians in a short period after the filming of Blow Up.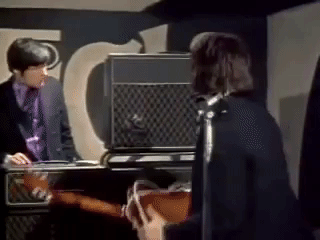 In their cult-classic scene, Jeff Beck  proceeds to destroy his guitar against an amp. His fit of rage started because the amplifier wasn't omitting sound properly. Out of spite, he tried to punch it into a functioning condition- with his guitar. The band is unfazed and continues to play. Jimmy Page offers a sly smile before the crowd erupts. Beck throws the shreds into the audience and they rabidly attack each other for the pieces. The whole scene was completely directed but it doesn't take away from the magical Beck/ Page era rock show.