Gov't Mule Melt Down Fleetwood Mac's "Gold Dust Woman" Into Sexy, Swampy, Southern Rock Goodness
Mountain Jam Festival / YouTube
Mountain Jam Festival VI, 2010
Written by Stevie Nicks and featured on Fleetwood Mac's groundbreaking 1977 album Rumours, the already otherworldly "Gold Dust Woman" took a turn for the seriously supernatural when in 2010 Southern rock jam band Gov't Mule gave it a sexy, swampy update.
Fleetwood Mac's Version
With the help of singer-songwriter Grace Potter of Grace Potter and the Nocturnals trading vocal licks with Gov't Mule frontman Warren Haynes, "Gold Dust Woman" as performed at Mountain Jam VI was an experience that left the crowd walking away feeling more than a little dazed.
Fun Fact: The "Gold Dust Woman" take chosen for release on the 1977 Rumours album was reportedly recorded at 4 a.m., after a long night of attempts in the studio.
Bathed in a warm reddish gold light, Gov't Mule kick things off with a slow, honey thick instrumental intro – the perfect setup for Haynes' gritty delivery of the first verse and an even better indication of the magic that happens at 1:40 as Grace Potter slinks out from behind the depths of the backstage area, effortlessly letting her verse fall from her lips.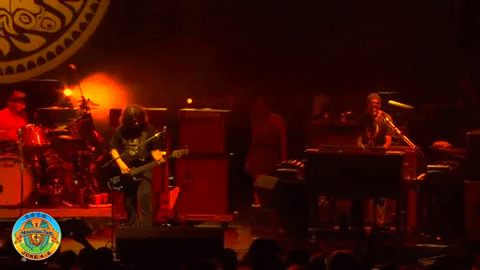 When Haynes and Potter come together in a one-two punch of a two part harmony, "Gold Dust Woman" really gets its wings, turning into the kind of jam that makes you long for the hot, swampy summers of your youth. If you're not feeling the heat of summer just yet, you're about to – check out Gov't Mule and Grace Potter's Southern rock spin on "Gold Dust Woman" in the video below!