Fleetwood Mac's Peter Green Once Pulled A Gun On His Accountant- Over Thing Thing?!
YouTube / Davey Boy Phelan
The Un-Recognized MVP of Fleetwood Mac
Fleetwood Mac was founded in 1967 by guitarist Peter Green. The original line-up was drummer Mick Fleetwood, guitarist Jeremy Spencer, and bassist John McVie- along with Green. The band was at first a hard rock blues band. Like most rock legends, the "sex, drugs, and rock 'n' roll" lifestyle got the best of him.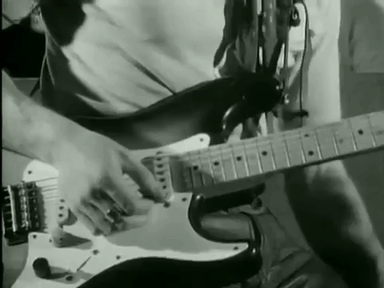 The band was turned onto LSD by their Grateful Dead contemporary, Owsley Stanley, during a gig in San Francisco. In 1969, while touring for their album Then Play On, Mic Fleetwood recalled to BBC " Peter took some more drugs and never really came back from that." In 1970, Green stepped down as the band's frontman.
Green's behavior became stranger as time passed. His brother Len Green commented that Peter started giving away his instruments and all of his money, working uncharacteristic jobs like grave-digging. Unfortunately, Green spent time in and out of psychiatric wards during this time- even underwent electro-shock therapies.
Fleetwood Mac re-grouped with the now known Stevie Nicks line-up. The band's popularity exploded in the mid 1970s. Naturally, fans started to search for archival footage and music.
As Fleetwood Mac started to grow a hardcore fan base, their income also started to grow. These super fans (and there were many) wanted to know every detail about the band, down to the roots.  The roots of the band were all Peter Green's music. The man was an insanely talented guitarist. Fans were purchasing archival records and memorabilia and Green was receiving royalties from this.
At this point, Green was trying his best to live a simple life away from his Fleetwood Mac legacy. Not even the money was of any interest to the former frontman. In fact, he became infuriated over the money he was receiving. In 1977, he got in contact with a former manager of the band. Green told Man of The World,
"I phoned up and asked him if he had ay money and he said 'the accountant's got your money.'"
In an interview with Musical Express, Green had talked about wanting to give away all his money and was angered by receiving unwanted checks. Green armed himself with a shotgun that he had crossed from Canada. Then, he left to find David Simmons, his accountant. He threatened to shoot Simmons over the influx of money pouring in. 
You gotta give it to him… although his actions were completely irrational, his thought process was heart-felt. Green was jailed over the incident and states,
"I was quite happy in prison, so I thought I'd be alright. But they said, 'You failed the psychiatrist test.'"
Green was commited to another psychiatric hospital where he was heavily sedated and diagnosed with schizophrenia. Upon a doctor's evaluation he was released, on the basis of the hospital environment doing Green more harm than good. Peter Green left the institution to live with his family. The icon re-launched his career in the 1990s.