4 Tried And True Ways To Play Guitar Like Gary Rossington
photo credit: kshe95.com
If you're anything like us, you've spent countless afternoons jamming alone in your room to your favorite Lynyrd Skynyrd songs until what you were playing sounded something like what was on the album. As kids we idolized guitarists like Gary Rossington and thought that laying down his guitar parts was as easy as owning a Gibson Les Paul just like his and making our playing sound like a carbon copy of his, but as we got older we realized that mastering the guitar the way Gary has has nothing to do with being a carbon copy and everything to do with the way you approach learning your craft.
Still not convinced? Here are 4 tried and true ways to play guitar like Gary Rossington – they may not help you join Lynyrd Skynyrd one day but they'll definitely give you a glimpse into why Gary and so many other guitarists like him are so incredible at what they do!
---
1. Don't Be Afraid To Explore Different Tunings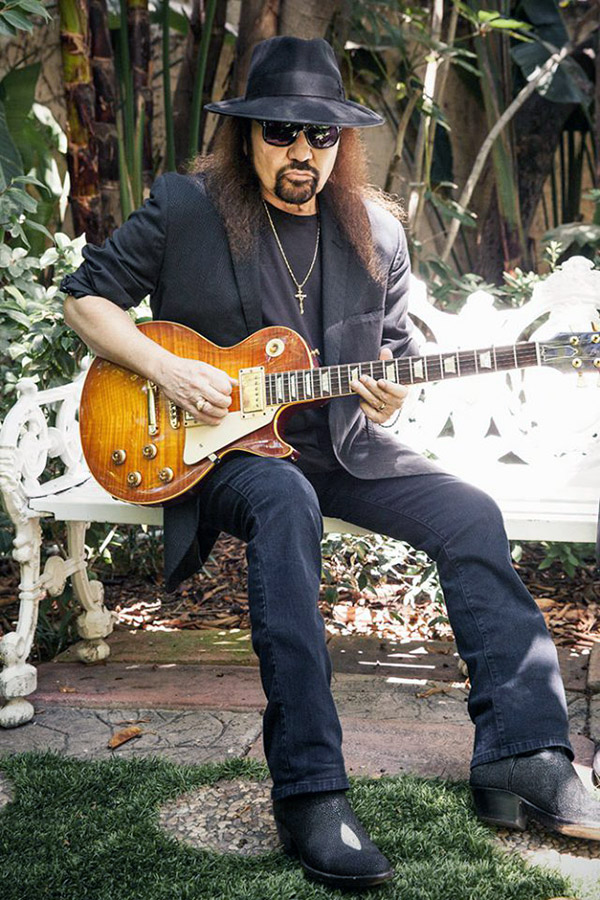 In the early days of Skynyrd, there wasn't time to change tunings onstage and with only one guitar to experiment with Gary learned to play slide in standard tuning. These days, he's got several guitars to choose from and depending on what he's doing musically, the tunings are different for each one – but after hearing late legend Duane Allman playing in open E instead of standard, Gary felt compelled to explore open tunings himself. The rest, as they say, is history.
"I like to play in open E a lot. Duane Allman was real fond of open E and played it great, and he was a big influence on all of us. We were still teenagers when we'd go to see the Allman Brothers. When I first heard Duane he was tuned to open E and I didn't know what the hell he was doing until I discovered open tunings for myself."
2. Find An Influence And Let It Guide You
We could literally sit for hours and talk to the guys in Lynyrd Skynyrd about the guitarists that influenced their respective sounds and techniques. Eric Clapton, Free's Paul Kossoff, the legendary Duane Allman – all of these influences can be heard in Gary's guitar playing, thanks to years of studying their techniques and habits and incorporating them into his own playing to create something uniquely his own. Don't try to actually be them, though; it's important to use that as a road map to where you want to go as a guitar player and from there develop your own style and voice.
"Back in the day when the band had just started, Duane Allman influenced us a lot. We loved Cream and Clapton's style, and all the guitar players with the British bands — Jeff Beck, Jimmy Page and also Hendrix. But mostly it was Clapton because he was so good and he played more of the kind of blues we were raised on. I grew up listening to him and hoping to be that good one day.
Of course, I never made it and I never got near Hendrix, either. I don't know if anybody will ever be as good as Hendrix again."
3. Experiment With Different Gear
Guitars and dating are pretty similar – you often have to sift through guitars you like but don't necessarily love until you find the one model that you wouldn't be caught dead without. However, unlike dating, trying out new guitars and new amps is actually fun, not to mention extremely helpful when it comes to developing your own style and voice (and they won't toss a brick through your car window when you tell them you don't love them anymore).
Don't be afraid to change it up as time and money allow – who knows, you just might love what you hear!
"I use a Marshall and I still use a Peavey Mace in the studio. I have a signature Peavey Penta amp for myself that's kind of like the old Peavey Mace, which they don't make anymore. But nowadays all the good amps sound about the same. If you've got tube and analog gear, it's all gonna sound warm and good."
4. Practice, Practice, Practice – And Then Practice Some More
The reason that Lynyrd Skynyrd operates like a finely oiled machine is because from the very beginning, practicing was the name of the game. Gary and the boys spent many an uncomfortable afternoon in the famed Hell House, running through their songs over and over again in the Jacksonville heat until they could play their parts (and those of their bandmates) at the drop of a dime and sound the same each time, only better.
Devote time to your craft and invest in your future as a musician; the rewards are absolutely endless, just ask Gary!
"It was like training camp, almost. Practice, practice, practice. We worked out every note. Ronnie would really drive us. He kind of put me and Allen against each other, and we'd battle for the lead."
Lynyrd Skynyrd's 'Pronounced 'Lĕh-'nérd 'Skin-'nérd & Second Helping Live' is available now on DVD, Blu-ray and digital formats – it's the perfect gift for the Lynyrd Skynyrd fan in your life. Buy it here on Amazon!