The Monterey Pop Coin Toss That Made The Careers of Jimi Hendrix and The Who
UNITED KINGDOM - FEBRUARY 24: ROYAL ALBERT HALL Photo of Jimi HENDRIX, performing live onstage (Photo by David Redfern/Redferns)
California Dreamin'
The Monterey International Pop Festival was held in the summer of 1967 from June 16th to 18th in Monterey, California. John Phillips of the Mamas & The Papas teamed up with record producer Lou Adler, promoter Alan Pariser, and publicist Derek Taylor. The trio put together the festival in 7 days after spending a night discussing the future of rock 'n' roll– a conversation in which Paul McCartney was present.
McCartney was  interested in nominating British bands for the line-up of Monterey Pop. He nominated  The Who and The Experience. Along with the Experience came a non-brit, the American Jimi Hendrix. The Experience had shared the stage with The Who back in London, but this show would end the career of the band as just an opening act.
Earlier that summer, Chas Chandler (Hendrix's manager), was brainstorming ideas to grab headlines. Journalist Keith Altham was  in the room during that brainstorm. The journalist made a suggestion that would upstage the Experience's contemporaries– The Who, a group with an affinity for smashing their instruments.
"Well, it's a pity you can't set fire to your guitar," joked the journalist. 
Months later, Jimi Hendrix and Pete Townshend were crammed  backstage of the Monterey Pop Festival stage- nervous as heck. The Who and Hendrix had gained a reputation for smashing their instruments and both claimed to have been the first to do so. This was the first major US performance for both of the groups. With an actual coin toss, The Who would go on stage first. Pete Townshend recalled the build up of the fateful coin toss in 'The History of Rock and Roll' documentary:
According to Townshend, Hendrix had said "What you really mean is that you don't want me to go first. You want to be first up there with the guitar smashing," to which Townshend replied "Jimi, I swear, that's not what it's about."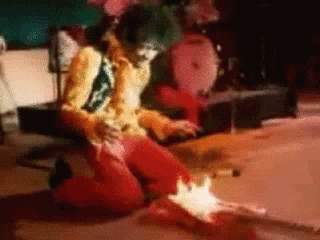 The who had a 25 minute set and smashed all their instruments, leaving a murder-scene of rock and roll machinery. The stage was re-built with new Marshall 100- watt stacks and Dual Showman amps, which at the time were the biggest and baddest amps Fender had to offer. The ominous set up had the audience on their toes.
The Experience took the stage and made history. Jimi set his guitar a-blaze as previously suggested by the journalist months earlier. Rock photographer Ed Caraeff (at the time 17 years old)  captured the iconic image of Hendrix and his burning guitar at Monterey Pop. He recalled:
"Whatever the audience's scant expectations, Jimi Hendrix was determined to defy them. Here was a man dressed in the most flamboyant, even confrontational hippie garb imaginable, playing electric guitar with jaw-dropping fluency and expression, and delivering it at crushing, never-before-experienced volume."