Happy 70th Birthday, Bon Scott! | 7 Things We Love About AC/DC's Fearless Leader
stv.tv
July 9 Marks The AC/DC Frontman's 70th Birthday
Before there was Axl Rose and even before Brian Johnson, there was Bon. Born Ronald Belford Scott in 1946, Bon Scott rose to fame as the charismatic, larger than life frontman for Australian rock legends AC/DC, immediately endearing himself to legions of fans who fell in love with his electrifying stage presence and freewheeling good time approach to life.
As multi-talented as he was a blast to be around, Bon's talents as a musician go much, much further than one of the biggest voices in rock and songs like "It's A Long Way To The Top (If You Wanna Rock N' Roll)" prove it; sadly, his February 18, 1980 death at the age of 33 cut short one of the brightest careers in rock and snatched away our chance to see what other magic Bon was capable of. Today marks what would have – and should have – been his 70th birthday, so in honor of a life well lived, let's look at 7 things we've always loved about AC/DC's fearless leader.
---
1. He Turned His Rowdy Youth Into A Brilliant Music Career
Troubled Youth To Rock Superstar
It's no secret that Bon had a pretty rough youth. The Scotland native dropped out of school at 15 and even spent nine months at the Riverbank Juvenile Institution relating to charges of giving a false name and address to the police, having escaped legal custody, having "unlawful carnal knowledge" and stealing twelve gallons of gasoline. He later tried to join the Australian Army, but when he was turned away for being "socially maladjusted," Bon shifted his focus to music – working long hours by day as a postman, bartender and truck packer and playing in his first band The Spektors by night.
2. He's Been Called The Greatest Rock Frontman Of All Time
Classic Rock Has Spoken
We've always known that Bon was a cut above the rest and in 2004, Classic Rock proved it! Battling against 99 other iconic rock frontmen, Bon ultimately won out – earning the #1 spot on a list of Classic Rock's 100 Greatest Frontmen and proving to the world what AC/DC fans have known for over 40 years. We've never been more proud of Bon, but we're pretty crushed that he wasn't alive to see himself receive the kind of critical acclaim a frontman of his caliber deserves.
3. Bon Scott…The Drummer?
Behind The Kit To Center Stage
Yep, you read that right! Before he was strutting his way from one end of the stage to the other, Bon set his sights on becoming a rock drummer. He played drums for his early band The Spektors and when his opportunity with AC/DC came up, Bon still really, really wanted to be their drummer. However, fate had something else in mind; his vocal abilities and magnetic stage presence so impressed brothers Angus and Malcolm Young that the thought of having Bon doing anything other than lead AC/DC would be sacrilege. 
4. He Proved Angus And Malcolm Wrong
Too Old To Rock? Please!
Before Bon joined AC/DC, his future bandmates had some doubts. He'd been in a serious motorcycle accident and according to late legend Vince Lovegrove, George Young of The Easybeats worried that only would Bon's injuries keep him from performing, but that he was too old to join the band. Nevertheless, Vince sat down with Angus and Malcolm who insisted he bring Bon by a local club that night to watch AC/DC play; wildly impressed with their energy, he immediately wanted to join them but worried that they were a bit too young and inexperienced. Angus and Malcolm were quick to retort that Bon might be "too old to rock", leading to a jam session later that night that resulted in Bon becoming AC/DC's new lead singer.
5. Before AC/DC, Bon Was In 4 Other Bands
A Legend Before His Time
By the time Bon joined AC/DC in 1974, he'd already spent a decade in and out of bands. He formed his very first band The Spektors in 1964 and took on the role of drummer and occasional lead singer and when Spektors merged with another local band a year later, they formed The Valentines, in which Scott was co-lead singer with Vince Lovegrove. He did a stint in prog rock band Fraternity – later known as Fang – and upon the band's hiatus in 1973, Bon occupied his nights singing with the Mount Lofty Rangers.
6. Bon Handpicked His Successor, Brian Johnson
Bon Blesses The Future Of AC/DC
When Bon died in 1980, his bandmates were left with the difficult task of deciding who – if anyone – should take his place. Lucky for them, Bon unknowingly handpicked his own successor a few years before in Georgie frontman Brian Johnson. He'd mentioned this dynamite singer his band Fraternity had toured with, one whose wildly impressive vocal style reminded him of his childhood idol Little Richard and after his death, the answer to AC/DC's lead singer question was simple. "I suppose when we decided to continue, Brian was the first name that Malcolm and myself came up with, so we said we should see if we can find him," reveals Angus Young.
7. He's Got The Coolest Memorial Statue Any Hometown Has Ever Seen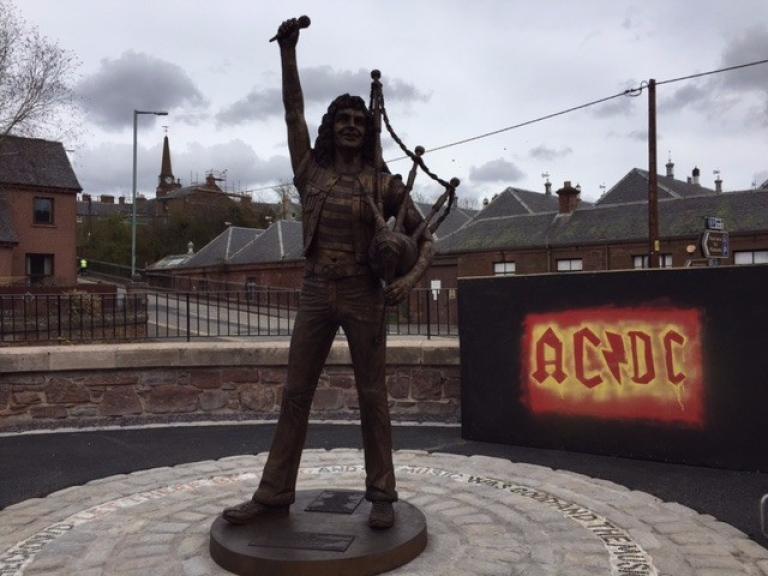 Best. Birthday Present. EVER!
Though AC/DC was formed in Australia, it was Kirriemuir, Scotland that Bon Scott called home for the first five years of his life before his family moved to Australia in 1952 and it's where Bonfest, a weekend long celebration of Bon's life and career, has happened every year for the last decade.Now in its 10th year, Bonfest was extra special this year; not only does it occur just weeks from what would have been Bon's 70th birthday, but it marked the official unveiling of the bronze statue AC/DC fans around the world have worked tirelessly to have created in Kirriemuir. Best birthday present ever!
Happy Birthday, Bon!