Flashback: That Time When Steven Tyler Sang "Amazing Grace" In Church
LeonorTyler / YouTube
Tyler Reaches For The Divine
If there's anything we've learned about Aerosmith frontman Steven Tyler over the years, it's that he can sing absolutely anything; even better, he believes in it so much that it in turn makes you believe, the mark of a truly great entertainer. Tyler's versatility stood out in technicolor on a Sunday morning in the early 00s when he found himself at Warren, MI's Church of Today, asked by Pastor Marianne Williamson to come forward and join gospel singer Juliette Hamilton for a rendition of "Amazing Grace".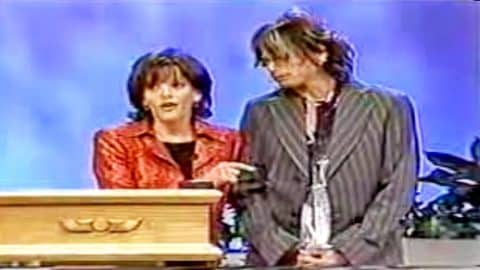 To no one's surprise, "Amazing Grace" proved to be positively divine – Steven took the lead for the first verse, the song's message of redemption not lost on those who knew the struggles that had plagued the singer before being joined by Juliette and earning furious applause from the congregation.
Fun Fact: "Amazing Grace" is a Christian hymn published in 1779, with words written by the English poet and Anglican clergyman John Newton.
On this particular Sunday, Steven Tyler wasn't a rockstar or the center of attention and not only did he know it, he embraced it, allowing his partner to shine and knowing exactly when to push and when to pull; the conviction in his voice paired with the deeply humbling experience of offering testimony in the only way he knew how was more than enough, and it makes for one of the most emotionally naked moments of his career – one that we're proud to call one of our favorites. Enjoy!