9 Times Keith Richards Cheated Death And Lived To Tell The Tale
Google via hdwallpapersact.com
December 18th marks the 73rd birthday of The Rolling Stones' Keith Richards. Sure, he's an all around bad ass that's survived 5 decades of the best sex, drugs and rock and roll that life had to offer but after all these years, we still wonder: how?
After reading these, we're pretty sure Keith is actually immortal and will be the only thing left standing after the apocalypse. To prove it, here are 9 things Keith survived that would have killed (or at the very least, severely slowed down) most mortal men!
---
1. The Boy Who Lived: Keith Survived The London Bombings In 1944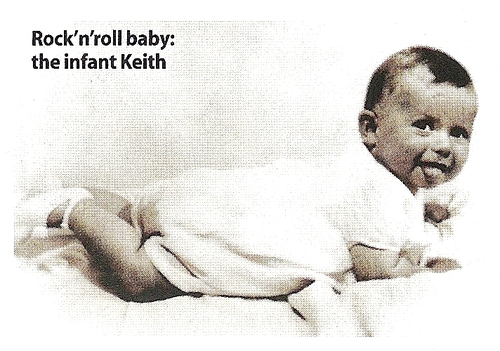 Believe it or not, even Keef was a baby – who with his mother narrowly escaped the London Bombings of 1944. While some of his neighbors were killed in the blasts, Keith's crib – where he lay just before the bombings – was destroyed. This wouldn't be the first or the last time our hero found himself facing what should have been certain death – it was just the beginning!
2. In the 70's, Keith Survived Strychnine Poisoning
After getting high with some seriously shady characters, Keith realized his dope had been laced with strychnine. "Someone put strychnine in my dope, it was in Switzerland," he said. "I was totally comatose but I was totally awake. I could listen to everyone, and they were like, 'He's dead, he's dead!' waving their fingers and pushing me about, and I was thinking, 'I'm not dead!'"
3. He Narrowly Avoided Burning To Death After Falling Asleep While Smoking
Seriously, how lucky does one man get?! While in the throes of a serious heroin addiction, Keith nodded off in bed with girlfriend Anita Pallenberg…while holding a lit cigarette. They made it out okay, but we can't say the same for their bed.
4. And Then There Was The Time Keith Was Electrocuted Onstage…
"The Last Time" was very nearly the last time for Richards, who was nearly fatally electrocuted after hitting his mic stand with the neck of his guitar. Aside from burned guitar strings and a bout of unconsciousness, it seems our Keef was right as rain!
5. Keith Burned His House Down In 1973 – And Survived
Though Keef swears that it wasn't because he fell asleep with a lit cigarette again – he blamed it on a mouse chewing through wiring – he lost his Redlands Estate home in 1973 after a tremendous house fire. We're glad everyone made it out safely!
6. Then, He Was Nearly Done In By Books. Wait – Books?!
You're killing us, Keef! In '98, the Rolling Stone broke three ribs after being pummeled with books after standing on a chair to reach a book and slipping. "It was one of those moments where you have to make a decision: take it in the ribs or take a shot in the temple on the desk," he remembered. "All part of life's rich pageant."
7. He's Even Fallen Out Of A Tree – Several Feet, Might We Add
We can't make this stuff up! Thankfully, Keef walked away with a "splitting" headache and a canceled Rolling Stones tour.
8. In 1969, Keith Survived Anarchy At Altamont
It's a wonder anyone survived the violence at Altamont in 1969, where a member of the audience was killed during the Stones' set. Mick Jagger was punched in the head, but Keith's reaction? "On the whole, a good concert."
9. He Snorted His Dad's Ashes
And that's all that we have to say about that.
Happy birthday, Keith!